I went to Seoul Kimchi with four other friends a few days ago for dinner. Seoul Kimchi used to be a little provision shop selling tasty korean gems like biscuits, beancurd paste, korean candy and staple korean ingredients. I would pop in every now and then to purchase a little korean treat, like a bag of unidentifiable savoury chips or a pack of soy bean drink.
After I moved out of Victoria Park and into Castlefield, Seoul Kimchi was just never on the way and I never had a compelling enough reason to make a trip there. I was therefore very surprised when WP told me she'd been to Seoul Kimchi to have lunch.
Me: You mean you bought lunch from Seoul Kimchi and ate it at home?
WP: No, I ate there!
Me: What, but where?
I thought there was a secret back door to a restaurant that I didn't know about. In fact, what had happened was that Seoul Kimchi had refurbished since I'd last been there. It is now a clean and bright looking joint that would probably fit a maximum of 17 people, uncomfortably. It's tight in there, but they make maximum use of the area available, sometimes by moving the chairs and tables around a little. It was roomy enough for me as coming from a high-density city myself, I'm used to being in small spaces.
We arrived at 6.30pm for dinner and the place was already packed. The kind lady owner welcomed us in whispering that it was very cold outside and so sorry we had to wait but she will get some chairs to put in the kitchen so we could sit there and stay warm while we wait for a table to clear. She took our arms like a familiar aunty would and ushered us behind the counter and next to the kitchen, extracted two different-sized little seats and asked us to Sit. The place definitely felt like home. WP and I tried to make ourselves as tucked in as possible so that the busy waitresses could bustle up and down the kitchen corridor without tripping over our legs.
Looking around patrons range from international students in the know to locals who know they've stumbled across a gem. These are the dishes we ordered that evening. It goes without saying that there was a constant flow of their signature kimchi in the usual little dishes for us to eat our mains with.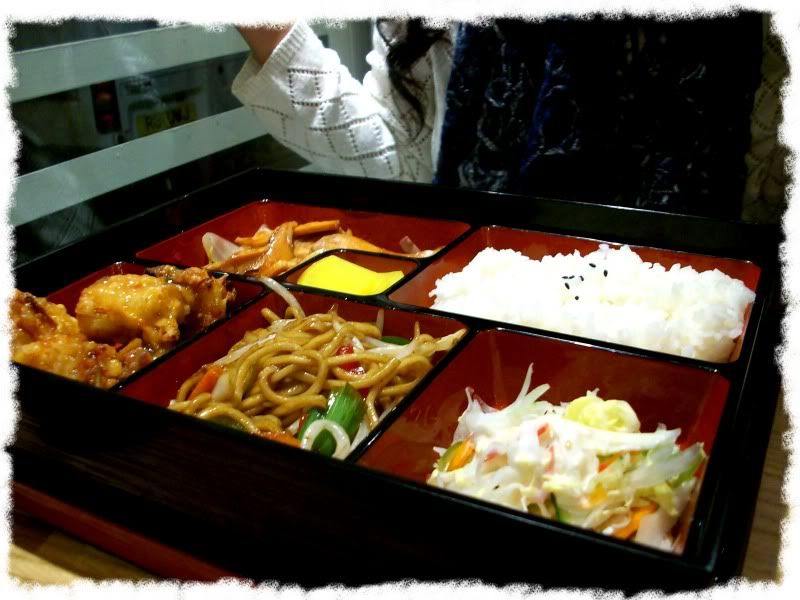 The Chicken Teriyaki Bento
This was part of the Japanese selection in their menu. It comes with shredded vege salad, noodles, some strange fried pancake thing which was yummy (in the right bottom corner), rice with sesame seeds sprinkled on and the chicken teriyaki itself.
The Salmon Teriyaki Bento

Another bento from the Japanese selection. Seriously what's the point of coming to
Seoul
Kimchi when everyone was having Japanese food! This also had all the same ingredients as the Chicken Bento but had salmon teriyaki instead (in the foreground). The salmon was properly doused with sweet sticky teriyaki sauce. WP said this was really good.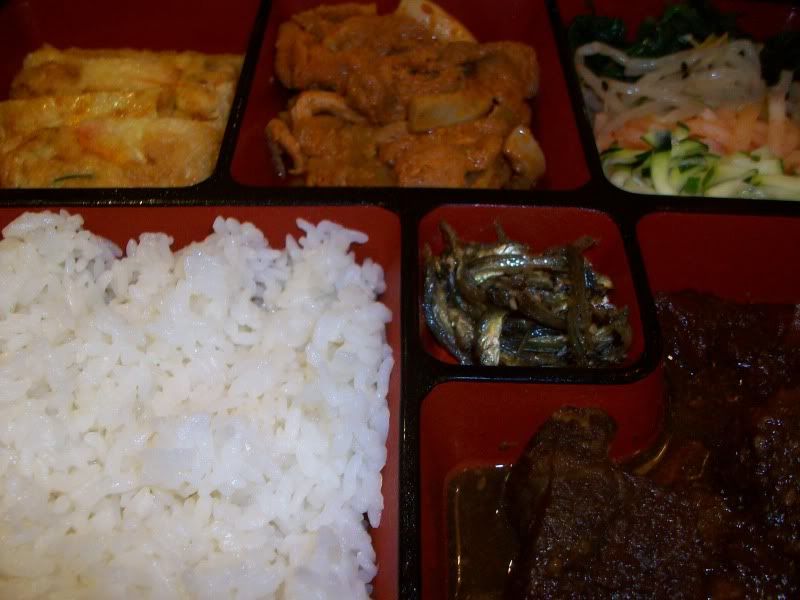 I ordered this one and it was YUMMY! It's such a shame blogger minimises the quality of my photos because you can't really see what's available. Clockwise from the top left, you get: Vegetable korean pancake slices, pork bulgogi, shredded vegetables in a sweet marinade, beef kalbi and rice. You also get a little middle section of what I know as
ikan bilis
in Malay (in a sweet marinade). I don't know the proper korean name for these but they're basically little anchovy-like fish. The whole combo just worked so well, especially for someone like me who likes a little bit of everything. It was larger bento than what I'm used to but no complaints!! In the bottom right was the beef kalbi, which according to the Boss Lady, would cost me £8++ on its own. The whole bento was £8++ and she was eager to impress upon me that it was "very good value". I had no complaints, this was YUMMY YUMMY YUMMY I WANT MORE RIGHT NOW.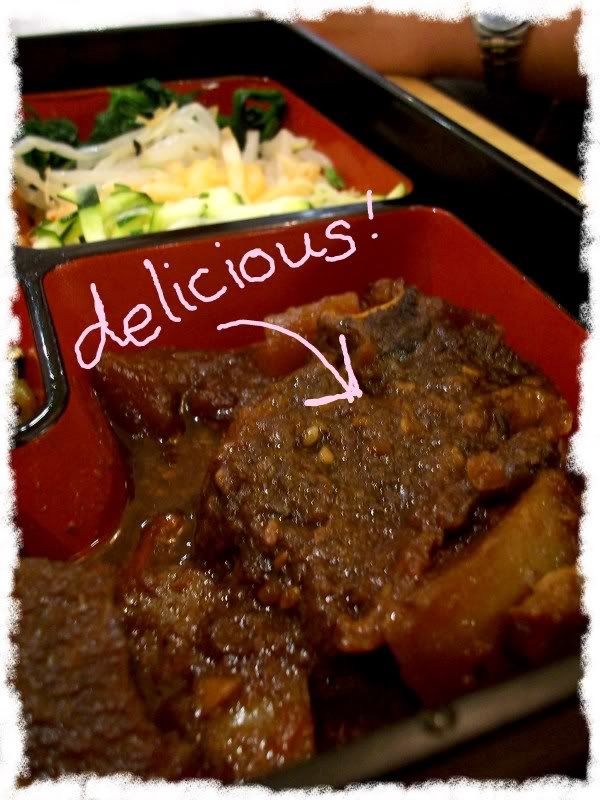 Up close shot of my beef kalbi. Mmmmm...
The Boss Lady comes over to check if we like our food. She is clearly very passionate about cooking, and doesn't need much persuasion to explain what we were having. With our mouths full, we could only manage to nod vigorously (I think I gave her a thumbs up). When we could manage, we told her the fare was delicious because it was!

It was so good that I hesitated to blog about this place for fear that it becomes even more popular such that I'll always have to wait for seats at my favourite Korean restaurant. However, this is one restaurant that I'd love to see succeed and grow (yay! more seats!) because the food is truly excellent and very affordable. The boss lady is absolutely lovely too and you can't help but feel like you're sitting in your family dining room. :)